Welcome
Welcome to our website...
Please select one of the menus to find the content you are looking for...
Show in Radebeul (Dresden), December 08 - 10, 2017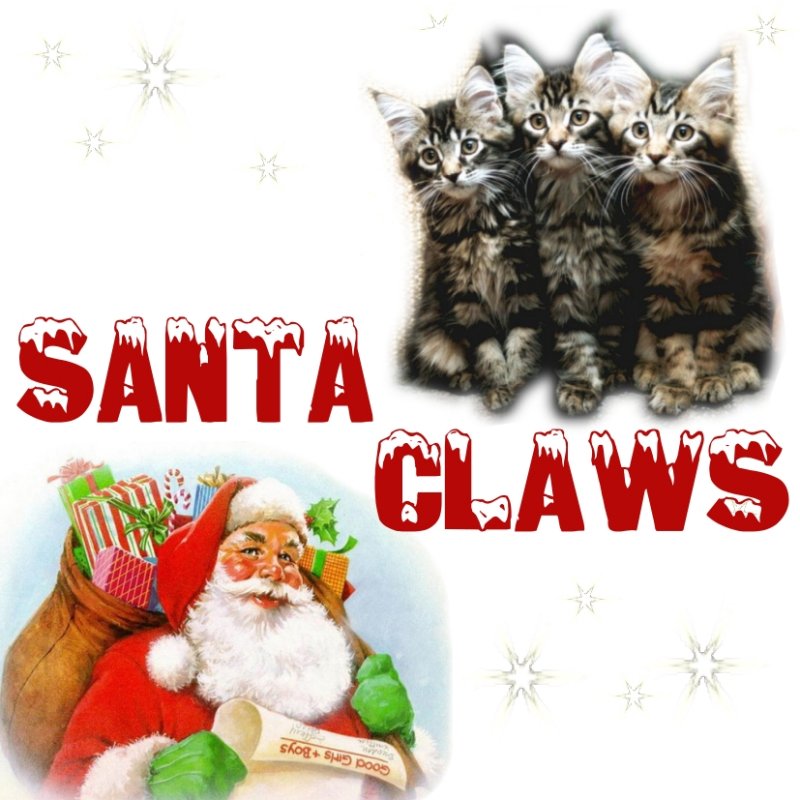 Online Entries
We are open for entries. Please enter your cats on TOES!
Santa Claws 2017
08. - 10. December 2017
at the Radisson Blu Hotel
Nizzastraße 55
01445 Radebeul
TICA Show with 16 AB Rings
Congresses (free of charge!):
Judges
Steven Savant (USA)
Chris Unangst (USA)
Kay DeVilbiss (USA)
Harley DeVilbiss (USA)
Vlada Beninya (RUS)
Richard Hoskinson (USA)
Pyjama Party
Friday night is our traditional pyjama party. We encourage all exhibitors (judges too!) to come to the show wearing their favorite pyjamas. The show is not open to the public on Friday, so no worries. :)
There will be food!
On Saturday evening we will have a judges' dinner at the show hotel. All exhibitors and anybody else interested is invited to join us for this. If you're interested, please let us know latest by November 27th. The dinner will be EUR 30 per person (excluding drinks). Due to organizational reasons we won't be able to accept reservations at the show. 
Here are the choices available at the buffet:
Appetizers
Pasta salad in the style of the region
Salad of red cabbage and oranges • Apples • Nuts
Root vegetable salad with sliced ham
Selection of local cured meats 
Variety of smoked fish 
Variety of green salads • Dressings
Variety of breads and rolls • Butter • Goose lard
Broth of wild mushrooms 
Main Courses
Sauerbraten • Red cabbage cooked with apples and spices • Potato dumplings
Braised leg of duck with redcurrant sauce • Market vegetables • bread dumplings
Seared salmon filet • Saffron sauce • Shallot spinach •Tagliarini pasta
Vegetarian "Maultaschen" (German "Ravioli") • Herb sauce 
Dessert
Apple strudel •Vanilla sauce
Spiced custard with Anise-marinated fruit
Marzipan mousse with Amaretto and caramelized almonds 
Selection of local cheeses
If you would like to order a hot lunch from the hotel restaurant on Saturday or Sunday, please let us know before the closing of the show. The show hotel restaurant is very busy this time of year and if you do not have a lunch reservation with our group, it will be difficult to impossible to get a table or lunch within the lunch break.
Also, if you would like to make dinner reservations for the show hotel for Friday or Sunday night, please let us know. It's possible for us to organize our own buffet in a separate room if we have 30 people or more interested. 
Cookies and Presents :)
Entry Clerk
Matthieu Ribon
This email address is being protected from spambots. You need JavaScript enabled to view it.
Closing Date December 3rd, 2017
or when we run out of space...
We no longer allow cancelling of entries. If you enter the show, you have to pay the entry fees - even if you fail to bench. The last possible date to substitute entries is December 3rd, 2017.
Fees
Entry Fees
| | | | | | |
| --- | --- | --- | --- | --- | --- |
| Days entered | 1st cat | 2nd cat | 3rd cat | 4th and additional cats | 3 in 1 Special |
| 2 Days | 70 € | 65 € | 60 € | 55 € | 160 € |
| 3 Days | 85 € | 80 € | 75 € | 70 € | 200 € |
Additional Fees
Extra Half Cage: If you have requested a double cage for one cat, we do charge a fee of 10 € per day. Extra cage spaces will be granted on a first come, first serve basis.
Exhibition Only: 10 € per day
Catalog: Please let us know whether you would like the club to provide you with a printed catalog (EUR 5,50), or whether you would prefer to print your own catalog pages before the show (in this case we will send you link to the .pdf version of the catalog after the show has closed).
EN Regional Fund: We will charge 1,50 € per exhibitor for the EN Regional Fund. 
Show Hotel
 

Radisson Blu Hotel Dresden Radebeul
Nizzastraße 55
01445 Radebeul

Internetadresse: https://www.parkhotel-dresden.com/en

Single Room: 90 €

Double Room: 115 €

Pet Fee: 5 € per room and night

Please book your rooms directly with the hotel using email This email address is being protected from spambots. You need JavaScript enabled to view it. and reference code "TICACats". If you do not book with this code, your room may be in a different building (further away from the show hall). Also, the standard pet fee is much higher outside our group rate. In the end a cheaper room (e.g. on booking.com) could end up costing you a lot more...

IMPORTANT!: To book a hotel room at the show hotel at the group rate for TICACats (lower pet fee!), you MUST email This email address is being protected from spambots. You need JavaScript enabled to view it. directly. If you try to book over the phone or on the hotel website, they will tell you they are full. They are not, they have rooms reserved for our group. ;)
General Information
Please remember to clip your cats' claws (on all four paws!)
Cage size: single cage – 70 x 70 x 70 cm; double cage – 70 x 140 x 70 cm
Veterinary control: This is a vetted show. All cats must provide proof of valid vaccinations against Rabies. Vaccinations are considered valid when they are at least 21 days old, but not older than 12 months. Any cats found to have any external parasites or showing obvious signs of illness will not be allowed entry to the show hall. All other cats belonging to the same exhibitor will also be disallowed entry to the show hall. All decisions made by the show veterinarian are final. Entry/benching fees will not be refunded.
Check-In:
These are the hours for vet check-in and official show hours:
Friday: 15:00 -16:00 (3-4 p.m.), judging begins at 16:00 (4 p.m.)
Saturday: 9:00 - 9:30 (a.m.), judging begins at 10:00
Sunday: 9:00 - 9:30 (a.m.), judging begins at 10:00
All cats must be present in the show hall on Friday between 16:00 and the end of the show, on Saturday and Sunday from 09:30 until 17:00 hrs, unless otherwise cleared with show management.
Clerks/Stewards: If you would like to clerk or steward for us, please contact the This email address is being protected from spambots. You need JavaScript enabled to view it..
Show Rules: This cat show is sanctioned by The International Cat Association and is subject to their Show Rules and Breed Standards (available from the TICA Executive Office, P.O. Box 684, Harlingen, TX 78551, or posted at http://www.tica.org). By entering, all exhibitors agree to abide by the decisions of the vet, the Show Committee and the Judges.