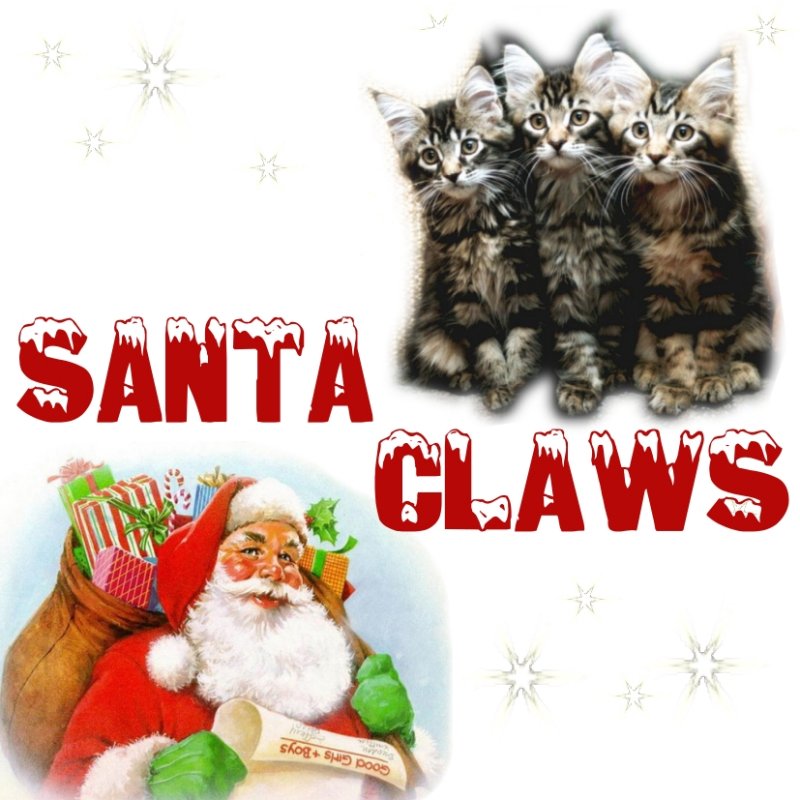 ---
We are closed!!!
We have reached show hall capacity. The show is closed. We are not taking any entries or substitutions. Thank you to all who have entered...
Santa Claws 2015
04. - 06. December 2015
at the hotel Seehotel Berlin-Rangsdorf 
Am Strand 1
15834 Rangsdorf
TICA Show with 15 Rings
Congresses (free of charge):
Male
Female
Tabby (w/o white)
Particolor
Judges
Steven Savant (USA)
Aline Noel (CAN)

Kay DeVilbiss (USA)

Harley DeVilbiss (USA)

Brigitte Berthelon (F)
Jean Marc Lagarde (F)
Katharina Krenn (A)
Pyjama Party and Christmas Cookie Exchange
On Friday, December 4th, 2015, the show will be closed to the public. We decided to have a "Pyjama Party". So we invite everyone to dress up in sleep wear for Friday afternoon...
Also, since this is our Christmas show we will have a Christmas cookie exchange. Please bring your cookies - we will set them out and then all share them 
Judge's Dinner
On the evening of December 5th, 2015, we will have a dinner for judges, exhibitors and friends. If you would like to join us, please email the  This e-mail address is being protected from spambots, you need JavaScript enabled to view it latest by November 27th, 2015.
Show Photographer
This year you will again have the opportunity to have fabulous pictures taken by Kathrin Gerz (Kat Cat Photography). For additional information or to make an appointment, please write to her at This e-mail address is being protected from spambots, you need JavaScript enabled to view it
Entry Clerk
Sabine Hübner
This e-mail address is being protected from spambots, you need JavaScript enabled to view it
Closing date November 29th, 2015
or when the entry limit is reached (whichever comes first)
The last possible date for cancellations is November 14th, 2015. Any cancellations after this date must be paid in full, whether you are benched or not.
Fees
Entry Fees
| | | | | |
| --- | --- | --- | --- | --- |
| Days Entered | 1st Cat | 2nd Cat | 3rd and Additional Cats | 3 in 1 Special |
| 3 Days | 75 € | 70 € | 65 € | 190 € |
| 1-2 Days | 65 € | 60 € | 50 € | 160 € |
Additional Fees
If you have requested a double cage for one cat, we do charge a fee of 10 Euro per day (per extra cage). Due to the limited show hall capacity we cannot guarantee double cages for single cats. Please make your request when entering your cat - we will fulfill reservations on a "first come, first served" basis...
Each exhibitor will be charged a one-time fee of 5 Euro for his/her show catalog and 1,50 Euro for the EN Regional Fund.
Show Hotel
All hotel rooms MUST BE reserved via the This e-mail address is being protected from spambots, you need JavaScript enabled to view it . The hotel won't take any reservations directly.

Hotel Seehotel Berlin-Rangsdorf

Am Strand 1
15834 Rangsdorf

Telefon: +49-33708-9288-0
Telefax: +49-33708-9288-10

Website: http://www.see-hotel-berlin.de
E-Mail:  This e-mail address is being protected from spambots, you need JavaScript enabled to view it

Single room: €80 incl. breakfast
Double room: €90 incl. breakfast

Pet fee €5 per day per cat.

You can find other places to stay at http://www.hrs.de, for example.
General Information
Please remember to clip your cats' claws (on all four paws!)
Cage size: single cage – 70 x 70 x 70 cm; Doppelkäfig – 70 x 140 x 70 cm
Veterinary control: This is a vetted show. All cats entered must provide proof of valid vaccinations against Rabies. Any cats found to have any external parasites or showing obvious signs of illness will not be allowed entry to the show hall. All other cats belonging to the same exhibitor will also be disallowed entry to the show hall. All decisions made by the show veterinarian are final. Entry/benching fees will not be refunded.
Check-In:
Friday between 01:00 a.m. and 02:30 p.m. Judging will start at 03:00 p.m.
Saturday between 08:30 a.m. and 10:00 a.m. Judging will start at 10:30 a.m.
Sunday between 09:00 a.m. and 10:00 a.m. Judging will start at 10:30 a.m.
All entries must be present during the advertised show hours (10:00 a.m. until 18:00/06:00 p.m.). Any exhibitor who needs to leave earlier must first obtain the permission of the Show Management.

Clerks/Stewards: If you would like to clerk or steward for us, please contact the Entry Clerk.
Show Rules: This cat show is sanctioned by The International Cat Association and is subject to their Show Rules and Breed Standards (available from the TICA Executive Office, P.O. Box 684, Harlingen, TX 78551, or posted at http://www.tica.org). By entering, all exhibitors agree to abide by the decisions of the vet, the Show Committee and the Judges.